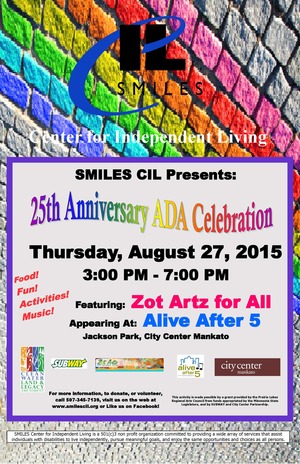 FREE Family Friendly activities Thursday, August 27th!
Alive At 5 in Jackson Park from 5:00 pm – 8:00 pm presented by City Center Partnership!
Zot Artz, Arts for All in Jackson Park from 3:00 pm – 7:00 pm presented by SMILES Center for Independent Living!
Gateway to Play, presented by The Children's Museum of Southern Minnesota at 224 Lamm St 4:30 – 7:30 pm.
Join us for FREE FAMILY FUN!  3:00 pm – 7:00pm In Jackson Park:  Printmaking (including premade shapes)
• Mural painting walking and rolling
• Pogo Painting with Easel Man
• Tabletop T-shirts
• Chalk walk and Roll
• Supersquirt           •  Experiential Tools: Major Bubbles, Give it a Whirl!
Arts Activities start at 3:00.    5:00 pm – 8:00 pm Alive At 5 music starts!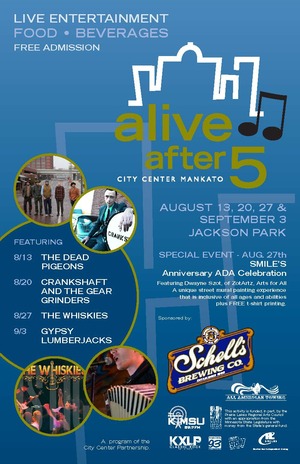 For more information about Zot Artz, call SMILES CIL at 507-345-7139
Free Admission to Children's Museum 4:30 pm – 7:30 call 507-386-0279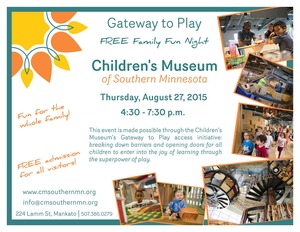 This activity is made possible by a grant provided by the Prairie Lakes Regional Arts Council from funds appropriated by the Minnesota State Legislature and by SUBWAY Restaurants and the City Center Business Partnership!   Thank you ALL!
The 25th Anniversary ADA Celebration, formerly known as the Block Party, is moving uptown to Jackson Park for Alive After 5 on Thursday, August 27 from 3 pm to 7 pm!We'll be hosting Dwayne Szot's  Zot Artz "Arts for All" activities, including live mural painting and FREE  t-shirt painting.  Accessible transportation dropoff/pickup zone at Jackson and South Second.  Call 507-345-7139 for more information.
Full time Independent Living Skills Specialist:
SMILES Center for Independent Living is seeking an individual on a full-time basis 40 hours per week, to join our team to provide independent living skills training to adults and youth with individuals with disabilities, one-to-one and in a small group basis, within Waseca and Le Sueur Counties. 
Candidate must have the ability to conduct needs assessments, develop independent living plans, and provide Independent Living Training & Case Management.

Candidate should possess knowledge of disabilities and their characteristics, ability to work with diverse populations of individuals with disabilities, communicate effectively both orally and in writing, work flexible hours, and have a valid driver's license and reliable transportation.

Minimum qualifications require a two (2) year degree in a human/social services field combined with one year of experience in a disability related position.

Starting salary $11.70 to $12.75 per hour; plus a full benefit package.  Position will remain open until filled.

SMILES IS AN EQUAL OPPORTUNITY EMPLOYER.  

The Price is Right at SMILES!! COME ON DOWN! FREE EVENT with FREE PRIZES! Tonight from 4:00 – 6:00 pm.
SMILES' bowling league begins Monday, March 2nd at the WOW Zone. Cost is $5 per time which includes ball and shoe rental and all the bowling you can do in 1 1/2 hours! Family and friends receive same discounted price. Any questions, give me a call!
Eagle Scout Candidate Lucas Baker has arranged a Community Event for people with disabilities to have fun skating or sliding indoors at All Seasons Arena on Saturday, March 7 from 10:00 – 11:30 am. Click here for information
Happy New Year, everyone!
We have several fun activities to welcome 2015 in January!
– Pizza & Karaoke Party on THURSDAY, JANUARY 15 4:30-6pm
o RSVP by Wed Jan 14
o Pizza is $1 per slice
– WOW Zone Event – bowling and burgers! THURSDAY, JANUARY 22 4-6pm
o Cost is $5 for 1 game of bowling and burgers
o DOES NOT INCLUDE POP OR TAX
o RSVP by Tuesday, Jan 20
o LIMITED TRANSPORTATION AVAILABLE ON FIRST COME, FIRST SERVE BASIS – RSVP IMMEDIATELY
– Adaptive Ski at Mt. Kato on Sunday's from 12-2pm
o Call Jamie for more information
– Craft and Card Club
o 2nd and 4th Tuesday of the month – see calendar for details
– Living Well with a Chronic Condition support group – see attached flyer!
Hope you all had happy holidays – see you in January!
Jamie
The next open enrollment period will be November 15, 2014 through February 15, 2015, with coverage taking effect no earlier than January 1, 2015.
The life events that may qualify an individual for a special open enrollment period include:
• Adoption
• Foster care
• Birth of a child
• Marriage
• Gain of citizenship, national or lawfully present status
• Loss of health insurance coverage*
• Newly eligible or ineligible for tax credits or having a change in eligibility for cost-sharing reductions for individuals already enrolled on MNsure
• Permanent address change which provides new Qualified Health Plan choices
• Enrolled member of a federally recognized tribe
*This life event is available when you are no longer eligible for other health insurance (including as a result of leaving a job, loss of Medical Assistance or MinnesotaCare, or loss of coverage under a spouse's plan). This does not include loss of coverage due to failure to pay premiums or opting out of available coverage.
Consumers will not be able to enroll in a Qualified Health Plan (QHP), or change enrollment to another QHP, inside or outside of MNsure unless they have a life event that qualifies them for a special enrollment period. Generally, the special enrollment period begins on the date the qualifying event takes place (regardless of when the change is reported) and ends 60 calendar days later.
If you don't make a plan selection prior to the end of the special enrollment period, you will not be able to enroll or make changes. You are responsible to pay the premium amount billed by the carrier in order to ensure coverage.
cforms contact form by delicious:days